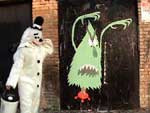 From Wooster Collective:
Last week Matthew Rodriguez got picked up by the cops wearing a rooster costume while glueing up candycorn characters in new york during his art show at the show room gallery with scion. This week hes in newyork again for another art show at the mf gallery that opens this saturday.
This time he's wearing a snowmans costume and glueing up christmas tree monsters.
Here.