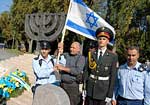 Moscow Times:
The notices were posted around the capital of Soviet Ukraine: All Jews living in the city of Kiev and its vicinity must report by 8:00 on the morning of Sept. 29, 1941, to the corner of Melnyka and Dokterivska streets (near the cemetery).
They were told to bring their ID cards, money and fresh clothes. Most thought the Nazi occupiers were deporting them to a Jewish ghetto. Some even arrived early in hope of getting a good seat on the train.
What met them that morning was death.
Forced to undress, the Jews were herded in groups — men, women and children — to the edge of a ravine. For 48 hours, the Nazis gunned down the crowd until at least 33,771 Jews had been massacred — a number recorded by the German shock troops — their lifeless bodies toppling down the embankment. In the ensuing months, the ravine would fill with an estimated 100,000 bodies, including other Kiev residents and Red Army prisoners.
Here.