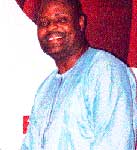 From the Daily Sun, Nigeria's King of the Tabloids:
When you said shit business is serious business, could you please expatiate on that?
Yes, what I mean is that every human-being on earth excretes. Man, woman, children etc and no one would want to stay there after doing it. So, if you decides to pack the shit and you are not serious you won't do it, it's a serious business because it is not something that smells nice, if you don't do it with passion or won't want to be identified with it, you can't do it because it is not a job anybody can wake up to tell the whole Nigeria he does. So I am passionate about it, it's a serious business. Something that 120 million Nigerians will wake up to do everyday must be a serious business.
Here.