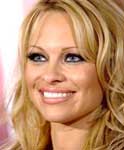 SF Gate's Daily Dish:
Sources claim Kid Rock, real name Bob Richie, became enraged by his wife's role in the spoof film — in which Borat, played by Sacha Baron Cohen, travels across America to get close to the blonde beauty.
A close friend of the pair tells Page Six, "(Film producer) Ron Meyer held a screening of 'Borat' at his house for a bunch of people, including Pam and Bob. It was the first time Bob had seen the movie, and, well, he didn't like it.
"Bob started screaming at Pam, saying she had humiliated herself and telling her, 'You're nothing but a whore! You're a slut! How could you do that movie?' — in front of everyone. It was very embarrassing.
Here.