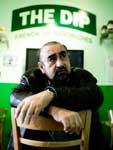 LA Weekly:
As we've seen from British comedian Sacha Baron Cohen's Borat: Cultural Learnings of America for Make Benefit Glorious Nation of Kazakhstan, one actor's deadpan dedication to heavily accented cultural naiveté in the face of unsuspecting victims can do wonders. But actor Ken Davitian, who played Borat's bearded and oversized film producer, confidant and combatant, Azamat Bagatov, already knew the power of anonymity before he'd ever heard of Cohen or Borat, because it won him the job.
"I didn't break character," says Davitian, 53, of his audition. The breakdown called for a "frumpy Eastern European" man who didn't understand English. But instead of showing up as his needy American bit-player self and then performing the role for a casting camera, Davitian arrived as a bewildered foreigner sporting baggy threads, a gruff demeanor and a parlance inspired by his Armenian relatives. Outside the audition, among fellow actors he recognized from the ethnic-part circuit, all dressed as themselves, he kept up the act. "One of the guys came up and said, 'You really want this part.' "
Inside, Davitian didn't even hand over a real résumé. "I had a white 8-by-10 that was folded in my jacket pocket," he says. "I took it out, straightened the creases and gave it to them, and you could see in their eyes, 'How did this guy get in?' From what I understand, they thought, 'This is so sad. Let's just go through with it a little bit and ask him to leave.' "
Here.