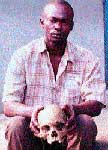 He severed head of a corpse and claimed he pitied it and decided to do it a favour.
Daily Sun, Nigeria's King of the Tabloids:
Azubuike, a native of Aguata in Anambra State, said: "I went to look for my friend at Alakuko on that fateful day. On getting there, I met his absence and decided to look for him at the motor park. On my way to the park, I saw three corpses on the road. They were all decayed and their skeletons were sticking out. I felt sorry for one of them and decided to cut off the skull.
I saw a machete by the roadside, which I used to sever the head. I put the head into a nylon bag and was going back to my friend's house when I was intercepted by the police. I explained to them that I only took pity on the corpse. I would have even carried the whole corpse, but it was too heavy. My intention was to help the corpse by burying its head. I had no ulterior motive."
Here.