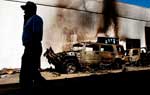 LA Weekly:
On the night of August 22, 2003, Billy Cottrell would later testify, he had only intended to tour around Southern California with his friends Tyler Johnson and Michie Oe, plastering SUVs with bumper stickers. Going in, the plan was so innocuous, rising only to the level of a graffiti prank, that even Cottrell's mom, Heidi, was involved.
An attractive blonde in her 50s, with big blue eyes and a curly bob haircut, Schwiebert is a horsewoman, although that's where her interest in environmentalism ends. But she was fed up enough with polluting road hogs that she volunteered to print up bumper stickers for the three young people that would say "SUV = TERRORISM." "I told the printer I didn't particularly agree with the slogan myself, but I supported their right to free speech," she recalled. At the printer's, another "I" slipped in, and the stickers came out condemning "TERRIORISM."
In the defense account of that night, Tyler Johnson, angry about the misspelling, demanded that Cottrell pay him back the $200 he'd spent on materials. Johnson offered to forgo the $200 if Cottrell would use his own car to chauffeur Johnson and his girlfriend, Michie Oe, around town while they spray-painted the offending gas-guzzlers.
Here.