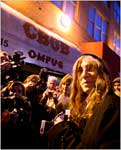 NYT:
After a protracted real estate battle with its landlord, a nonprofit organization that aids the homeless, CBGB agreed late last year to leave its home at 313 and 315 Bowery at the end of this month. And Ms. Smith's words outside the club, where her group was playing, encapsulated the feelings shared by fans around the city and around the world: CBGB is both the scrappy symbol of rock's promise and a temple that no one wanted to see go.
"CBGB is a state of mind," she said from the stage in a short preshow set for the news media whose highlight was a medley of Ramones songs.
"There's new kids with new ideas all over the world," she added. "They'll make their own places — it doesn't matter whether it's here or wherever it is."
Here.