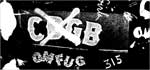 Richard Hell, NYT:
On practically any weekend from 1974 to 76 you could see one or more of the following groups (here listed in approximate chronological order) in the often half-empty 300-capacity club: Television, the Ramones, Suicide, the Patti Smith Group, Blondie, the Dictators, the Heartbreakers, Talking Heads, Richard Hell and the Voidoids, and the Dead Boys. Not to mention some often equally terrific (or equally pathetic) groups that aren't as well remembered, like the Miamis and the Marbles and the Erasers and the Student Teachers. Nearly all the members of these bands treated the club as a headquarters — as home. It was a private world. We dreamed it up. It flowered out of our imaginations.
How often do you get to do that? That's what you want as a kid, and that's what we were able to do at CBGB's. It makes me think of that Elvis Presley quotation: "When I was a child, ladies and gentlemen, I was a dreamer. I read comic books, and I was the hero of the comic book. I saw movies, and I was the hero in the movie. So every dream I ever dreamed has come true a hundred times." We dreamed CBGB's into existence.
The owner of the club, Hilly Kristal, never said no. That was his genius. Though it's dumb to use the word genius about what happened there. It was all a dream. Many of us were drunk or stoned half our waking hours, after all. The thing is, we were young there. You don't get that back. Even children know that. They don't want their old stuff thrown away. Everything should be kept. I regret everything I've ever thrown away.
Here.