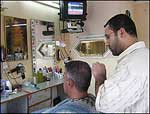 Washington Post:
Printed neatly on white-and-green fliers, the edicts banned vices like "music-filled parties and all kinds of singing." They proscribed celebratory gunfire at weddings and "the gathering of young men" in front of markets and girls' schools. Also forbidden were the "selling of liquor and narcotic drugs" and "wearing improper Western clothes."
But at the bottom of the list of prohibitions was a single command. Scrawled in green ink, it read simply: "Cut hair."
"I feel powerless," lamented Moataz Hussein, 22, a wiry, soft-voiced teacher seated in a hair salon on the main road of the Tobji neighborhood on Sunday. His long, stylish black hair was now a recent memory. "They are controlling my life."
Here.