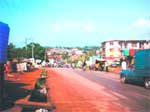 From the Daily Sun, Nigeria's King of the Tabloids:
Any time you meet a person telling you that the government of Imo State has turned the state to wonderland, don't believe it until you go to Okigwe, one of the three major cities of the state.
After your visit to Okigwe, you will have every reason to boldly stand up and tag the person laying claims to such wonders a liar.
Here.