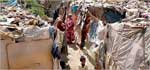 From the New York Times:
The Somali smugglers are a ruthless lot. They charge $30 to $100 for passage, quite a bit since they pack 80 to 200 bodies into the fishing boats. And payment does not guarantee safe passage, not by a long shot.
If the seas get too rough, some passengers might be hurled overboard to lighten the load. If someone dares to stand up during the voyage, a whack with a stick or a gun butt is the inevitable punishment. Unaccompanied women might find themselves sexually molested by the crew in the dark.
But it is when the Yemeni Coast Guard appears and the boat owner risks losing his craft that things get even worse. The crew is likely to force all the passengers into the sea at gunpoint. If anyone hesitates, the crew will sometimes tie the hands of the passengers and throw them out, or simply shoot them.
Here.