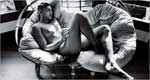 NYT:
Eventually the media tired of Andrew Martinez. And so did Berkeley: in the fall of 1992, the school instituted a dress code mandating that students wear clothing in public. Martinez quickly ran afoul of the rule, and after he showed up naked for a disciplinary hearing, he was expelled.
Martinez stuck around the city, hanging out in People's Park and strolling along Telegraph Avenue, but he wasn't the same Naked Guy as before. Friends noticed that something was amiss: Martinez had become angry — angry about his expulsion, angry that the media had moved on to other stories, angry that no rich nudist had come forward to bankroll the lawsuit he wanted to file against the university. He started to talk of sinister forces, like the C.I.A., that he claimed were trying to thwart him. He felt ostracized. "I merely need to take off a four-ounce piece of cotton and reveal something that I have, everyone knows I have, half of the population has as well, to change from an average 20-year-old guy to a sex-offending criminal," he wrote in a book manuscript that was never published.
He began to wander Berkeley pushing a shopping cart filled with rocks. He'd place the rocks at major intersections, trying to disrupt traffic, and he'd make piles of them all over the city so that, as he explained to his girlfriend at the time, "people would have weapons for when the revolution comes." He seemed to seek out confrontations with the police, once luring them to the co-op where he lived and pelting them with compost. He was arrested on multiple occasions.
Here.